Press Release May 2018
Published on May 3rd, 2018 | Category: General News
We are eager to get things going having just secured the Provision of Bundle Spacers for the Snorre Expansion Bundle project for Subsea 7.
We had 12 Work Placement students from North Highland College across this week for their induction with our Directors Wullie and Sandra, and our HSEQ Manager Jim Gillespie.
Also dropping in with the Course Leader Liam Sutherland and the students were Marcus Mennie and Nicola Innes from the Developing the Young Workforce initiative to reinforce the Gow's induction with the launch of their snazzy new Health & Safety booklet for DYW.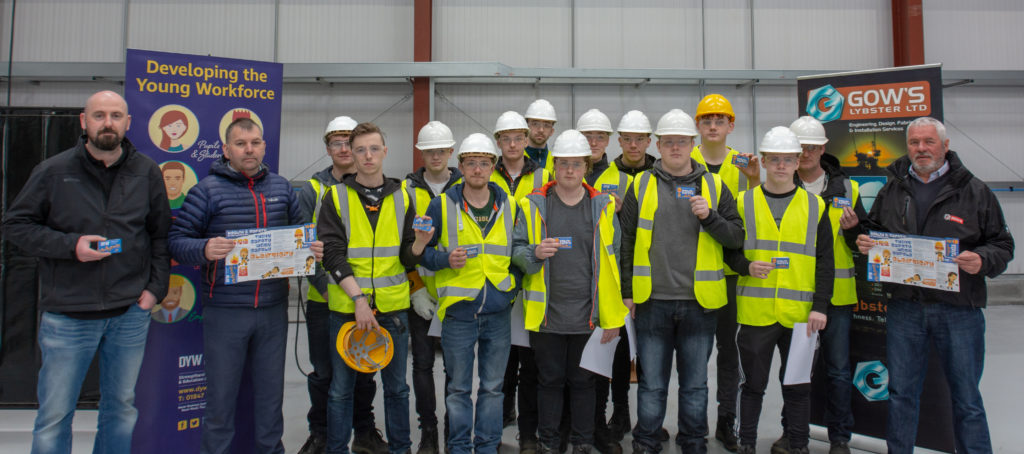 The DYW Health and Safety booklets reinforce the message that we in Gows already take that Health & Safety is our foremost consideration in all our contracts, on our facility and at our client's facilities. It is great to see the DYW booklets compliment our robust policy's and show the young workforce that Health & Safety is the foremost throughout all industry and should be adopted all day, every day in the workplace
We expect the students to have a safe experience with us and that it contributes to their development. We always have an eye on the future recruitment so impress us guys – we are sure you all will.
This latest contract will consist of the supply, manufacture and delivery of 6616 spacers, making it the company's largest bundle spacer contract to date. This contract follows on from the successful delivery of bundle spacers for the Apache Callater Field, Premier Oil Catcher and the BP Clare Ridge.